News
Keyshia covers the February issue of UPSCALE Magazine!
Pick up your copy NOW!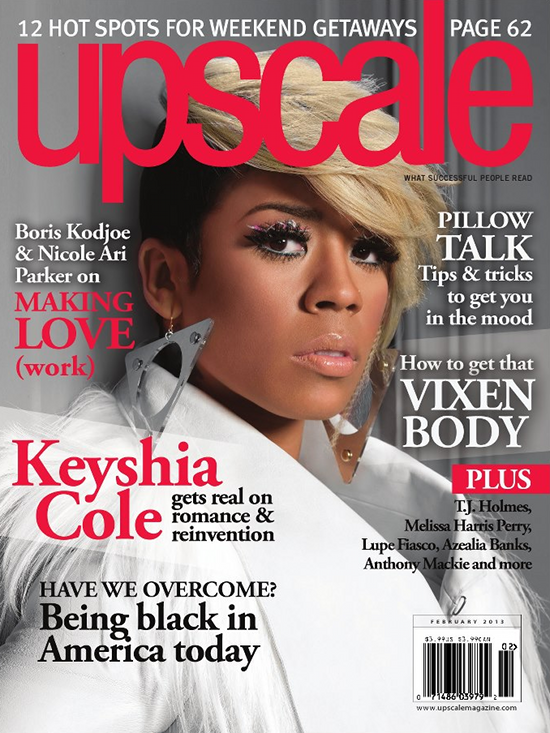 Tune in to BET this Sunday, Jan. 27th, at 10pm ET to catch Keyshia performing her hit song "Zero" at the UNCF's An Evening of Stars!  Click HERE for more information.
*Check your local listings
Keyshia Cole shares 'Woman to Woman'
Fans, friends and others were able to get a special sneak peak of Keyshia Cole's latest album, Woman to Woman, as a part of a listening and Q&A session on Tuesday night at Studio 202 in Washington, D.C.
Keyshia dropped by to preview her fifth studio project and chat with fellow artist and radio host Raheem DeVaughn about the new album. She also dished about what life has been like lately for her as she continues to celebrate motherhood and marriage.
"We put a lot of hard work in there. Brought up feelings and emotions that I didn't want to," Keyshia said. She spoke on Woman to Woman being relatable for her fans, to show them that a girl who comes from where they come from can be happy and overcome adversity. But Keyshia was quick to let them know that her hopes and dreams are just as normal as the next semi-newlywed's. "I wanna be with my husband, I wanna raise my son. You know, I wanna grow old with my husband and I wanna create that family environment for my son. Nobody should be able to tear that down when you have that."
Keyshia took us through the soulful sounds of her album, starting with "Missing Me," written by Keyshia and produced by Eric Hudson. "He's very talented," Keyshia said of the famed producer. The record seemed to be a favorite of Keyshia's: "Turn that up! I need to listen to that," she said with a laugh. "I can always hear more of this song."
The title track "Woman to Woman," featuring Ashanti, was a crowd favorite; you could hear audience members murmuring, "I love this song" as it started to play. Apparently Keyshia's a big fan, too, as she begged DJ Heat, "Nooo! Keep going!" when the music started to fade out. Raheem asked Keyshia what it was like working with Ashanti, and she said with a laugh, "Umm…Ashanti doesn't drink. Like at all."
Click HERE for Full Article!